About INASP
INASP is a co-operative network of partners whose aim is to enhance world-wide access to information and knowledge. It has three immediate objectives:
to map, support and strengthen existing activities promoting access to and dissemination of scientific and scholarly information and knowledge;
to identify, encourage and support new initiatives that will increase local publication and general access to high quality scientific and scholarly information;
to promote in-country capacity building in information production, organisation, access and dissemination.
INASP is a programme of the International Council for Science (ICSU).

Chairman: Kai-Inge Hillerud Director: Carol Priestley

Addresses:

Please note the change of domain and email addresses !

WWW: <www.inasp.info>
and also:



The Transformation of Makerere University Library
by Prisca Tibenderana

Established in 1949, Makerere University is the oldest in East Africa, and remained the only university in Uganda until the early 1990s. In 2000 INASP invited Makerere University Library to participate in the Danida/INASP funded "Using the Internet" travelling workshop series. Since this was in line with the strategic plan the library had just written (1), the invitation was welcomed. The library provided two librarians to assist in organization of the workshop series. The library hosted two workshops between 5-19 December 2000 on "Using the Internet" and "Evaluating Online Resources".

The PERI programme in Makerere

Having seen how well Makerere University Library performed in facilitating and organizing all the ICT related workshops, INASP invited the library to participate in piloting the Programme for the Enhancement of Research Information (PERI). This time, the library was to play the role of National Coordination of Online Journal Resources during which period, Enhancement of Research Capacity (ENRECA) researchers located in different parts of the country were the major focus for accessing the resources. The pilot study period was October-December 2001, and the study instruments were EBSCO databases, Blackwell Science & Blackwell Publishers and IDEAL Library online journals. The pilot sailed through and the project was recommended for implementation. Sida:SAREC (already funding some projects at the university) accepted the university proposal (2) to provide funds for implementation for 2002 and 2003. ICT capacity building

Before the "Using the Internet " workshop, Makerere University Library had been providing Internet services on a small scale via a dial up connection - mostly for Email services. In a way, the two workshops helped the library to build up Internet infrastructure as well as human capacity. Thanks to various funders (3), we now have 40 networked and connected computers in the main library and two smaller computer laboratories in the Education and Medical Schools, all connected via MakNET. Training has also continued with further workshops. Of our 35 professional librarians, most can now comfortably help readers to use online resources, while half of the support staff can send and receive Email. These are great achievements in such a short time.
Acquisition and access of online journals

Subscriptions to full text access from three major online journal publishers were taken up: Blackwell Science, IDEAL Library, and EBSCO Host.

The subscriptions are for countrywide access, so all researchers and scientists anywhere in the country can use them. Currently, research institutions accessing the online journals through this consortium arrangement include Uganda Martyr's University in Nkozi, Fisheries Resources Research Institute in Jinja (NARO), Centre for Disease Control (MH), and Centre for Basic Research in Kololo, Kampala. Usage of these online resources has been amazing, as can be seen in the graphs on these pages. (Figures from Blackwell and IDEAL were not available at the time of writing.)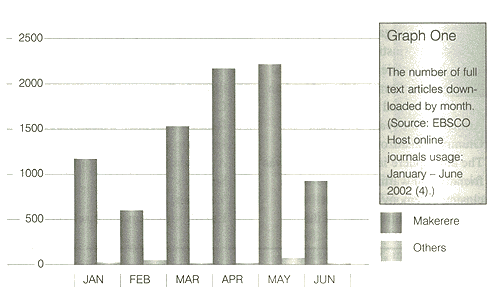 The majority of use is from Makerere University, and increasing use elsewhere in the country is another challenge. Within the university more than 46 people download full text journal articles and 25 people access abstracts daily - this does not include people searching the database, which is a far higher number. This is no small thing from a university that had very limited Internet connections in December 2001. As my colleague in Ghana said: "In terms of information access, the project is one of the best that ever happened to us" (5).

Besides the online access, there is a document delivery service whereby a researcher can order an article unavailable online. The order is made directly to the British Library and a copy delivered within a few weeks. Articles can also be ordered through African Journals OnLine (AJOL).

Sustainability

In order to sustain this service we are investigating linkage with other university libraries. A project under the Carnegie Corporation funding of the library is looking at this possibility, and a Consortium of Uganda University Libraries (CUUL) is also in development. This will go a long way to consolidate some of the achievements gained from PERI.
Conclusion

The time for Africa to succeed is now, by utilising the liberation provided by Information and Communication Technologies (ICTs). Makerere, in common with a number of other African universities, has enjoyed donor support to enable us to develop ICT skills, access and use. It is important that African researchers and scientists take advantage of the prevailing enabling environment to develop the continent for the betterment of all citizens. Let the Millennium be for the development of a better Africa.

References

1. Makerere University Library Strategic Plan, 2000/1 - 2004/5, July 2000.
2. Makerere University: Proposal to Sida:SAREC for Funding of Selected Projects; Integrating Information and Communication Technology in the University Functions, MakLIBIS Sub-project. October 2000 & Proposal to Sida:SAREC for Funding of Selected Projects: Integrating Information and Communication Technology in the University Functions - PHASE 2. Oct. 2000.
3. Sher, Afzal. coordinating ICT Support: Sida:SAREC ICT infrastructure development projects encourage bundling of funding opportunities. INASP Newsletter No. 17, June 2001.
4. <eadmin.epnet.com/eadmin>
5. Martey, Alfred K. PERI in Ghana. INASP Newsletter No. 19, February 2002.
Prisca Tibenderana
Senior Librarian, Makerere University
Uganda PERI Project Coordinator
Makerere, Uganda
Email:
Use of Scientific Information in a World of Divides: a Case Study
by Ana María Cetto

A map of multiple divides

There is an ongoing increase in the digital divide and a growing difficulty to "bridge the gap". ICTs (whether measured by telecommunication access paths or by internet hosts) grow at an annual average of 18% in developing countries, compared to 23% in industrialized countries (1). In 1997 the number of hosts per capita was 267 times smaller in Africa than in North America; by the year 2000 this factor had grown to 540 (2).

This increasing digital divide, however, is not an isolated phenomenon as there is a similar divide in education, economics, social welfare, industrial development and scientific capacity. For instance, the investment in S&T and the scientific output of the industrialized world account for approximately 90% of the world's total - and the figure today is larger than it was a decade or two ago.

Let us look, in particular, at Latin America. The region (including the Caribbean) accounts for more than 8% of the world's population and its gross domestic product (GDP) is one fifteenth of the world's total, but only 0.6% of this is invested in S&T - in contrast to 2.55% in the USA. There are 142,000 active scientists in the whole region, in contrast to 1,874,000 in the USA. There are 6 PhDs per million inhabitants in Latin America, in contrast to 179 in the USA (3). Moreover, the region is strikingly diverse in development: its map looks like a collection of islands of (relative) north embedded in large seas of south. For instance, the GDP per capita ranges from US$400 for Nicaragua and US$500 for Haiti to US$8,300 for Argentina (in 1998!) and US$4,700 for Brazil.

The use of ICTs in the region is also marked by strong divides both among countries and within them. It is estimated that by the year 2005, the Internet will have reached only the richest 20% of the population - about 100 million people in total. To the recurrent economic crises, the inequalities mentioned above and the lack of infrastructure, one must add the fact that the Internet is one more foreign tool, developed without our participation, and that its contents are almost entirely in a foreign language. Moreover, there is widespread information illiteracy, dating back to the pre-electronic era: it is not part of our culture to compile and systematize information, nor to make efficient use of it.

... and niches for activity

On the other hand, there are also important common elements throughout the region, language being one of them. Of the almost 500 million inhabitants, 320 are Spanish speaking and another 160 speak Portuguese. For this and other reasons, the countries of the region have the opportunity to produce content of specific value. This led the Organization of American States (OAS) to set up a hemisphere-wide inter-university S&T information network, RedHUCyT, which carries out activities aimed at strengthening the Internet infrastructure in the least developed regions and supports a number of specialized information and data networks in various fields of S&T (<www.redhucyt.oas.org>).

There also exist a few regional initiatives in the scholarly environment that make intensive use of the existing ICTs. In the field of electronic publishing, for instance, the SciELO model (Scientific Electronic Library Online), which originated in Brazil, is being adopted in other countries for online publication of a selection of journals (<www.scielo.org>). 80 titles from Brazil, 29 from Chile and 5 from Cuba are online, and Costa Rica, Spain and Venezuela are in the process of developing their SciELO systems. In the field of journal information services, LATINDEX has established itself as a comprehensive online system for the scholarly journals of LA&C, Spain and Portugal, with 13 countries contributing at present to the database on a daily basis (<www.latindex.unam.mx>). The Latindex Directory provides standard information on 11,000 journal titles, and the more recently developed catalogue provides added services for a carefully selected list of titles. On a local scale, the main universities in the region are developing automated systems to offer an increasing variety of scientific information services to their own communities, including digital libraries and catalogues.
Digital solutions?

Despite considerable amounts invested in the field, not much is known about the actual use of electronic literature and the impact it is having on user communities. University libraries are only now beginning to assess the use and impact of services provided through the Internet. Given this context, we have asked ourselves: to what extent are the ICTs effectively changing the access, use and production of scientific information by scientists in Latin America and what are the factors that facilitate or inhibit this change? To find some answers we surveyed the physics community of the University of Puebla, a medium-sized public research and higher education institution in Mexico - a half-developed, medium-sized country. The results of this survey and our conclusions may be read in the February 2003 issue of the INASP Newsletter.

References

1. RAND (2001). G. F. Treverton, L. Mizell. The future of the information revolution in Latin America. 2001. <www.rand.org/publications/CF>
2. Understanding the digital divide. OECD 2001. <www.OECD.org/EN/documents>
3. Cetto AM and Vessuri H (2002) Scientific cooperation in Latin America and the Caribbean. UNESCO World Science Report (in press).


Prof. Ana María Cetto
Instituto de Física, UNAM
Email:
Online resources available through PERI
Full text journal resources


The following resources all include leading titles in many disciplines within science technology, medicine, arts, humanities and social sciences:

over 350 journals from Academic Press, through the service, IDEAL

over 600 journals from Blackwell Publishers, through the service, Synergy

over 5500 full text journals from EBSCO Host within seven major databases

The Cochrane Library - the highly-respected medical resource which includes databases of key medical reviews, protocols, registers and bibliographies

Over 120 journals from Oxford University Press (new!)

The four internationally acclaimed primary research journals from the Royal Society of London (new!)

Over 1200 journals in a variety of research disciplines plus 700 journals and a range of encyclopaedia in medical and related disciplines from the Gale Group (new!)

Document Delivery Resources

PERI is able to provide document delivery from two resources:
The British Library - articles through the British Library are provided by airmail at no cost to researchers and their libraries in not-for-profit institutes in participating countries, through PERI/INASP funding.
Additional Current Awareness and comprehensive searching are facilitated by the British Library's Inside Web Service.

African Journals OnLine (AJOL) - this resource comprises a growing list of journals published within Africa. Tables of Contents and in many cases abstracts are available online. The full text articles can be supplied, by airmail as paper copies, on request.

This list will continue to expand as more publishers join the PERI initiative. It is maintained and updated on the INASP website at: <www.inasp.info/peri/electronic.html>.


For further information contact Sarah Durrant at:

INASP-Health... INASP-Health....

About INASP-Health

INASP-Health is a cooperative network created by health information providers, for health information providers. Its goal is to facilitate cooperation across the health information community towards universal access to reliable information for health professionals in developing and transitional countries.

The network currently involves more than 800 participants, North and South, representing nongovernmental organizations, international agencies, library services, publishers (print and electronic), and others.

To join the network, please contact:

Dr Neil Pakenham-Walsh Programme Manager
INASP-Health
WWW: <www.inasp.info>


We are grateful to the following organizations for their support:
- British Medical Association
- CDSI (ICSU-Press)
- Danida
- Department for International Development (UK)

- Exchange
- World Health Organization



Handheld computers for health workers in Africa

by Amy Galblum

SATELLIFE is testing personal digital assistants (PDAs), also called handheld computers, as a tool for data collection and information access in Africa. Funding has been provided by the Acumen Fund, a non-profit organization incubated by the Rockefeller Foundation, the Cisco Foundation and individual philanthropists.

In order to test the feasibility and usefulness of using handheld computers to conduct surveys, SATELLIFE joined with the American Red Cross (ARC) in their Measles Initiative, which aims to vaccinate at-risk children across Africa. Paper surveys are normally used by the Red Cross to gather data, but they are time-consuming, plagued with errors in data collection and transcription, expensive, and inevitably followed by delays in the receipt of a final report.

A PDA-based public health survey was designed to target mothers and other caregivers gathered at immunization sites in Ghana in December 2001. Prior to the start of the campaign, 30 Ghanaian Red Cross volunteers trained to use the PDAs over two days. They readily adopted the technology, though some of them had never used a computer before. The volunteers subsequently completed over 2,400 questionnaires in just three days, throughout the Cape Coast region. Stored data were transferred rapidly from each handheld computer to a laptop computer, using the synchronizing software and cradle supplied with the PDA. Transfer of data into the database was accomplished with no errors. ARC were able to analyse the data and deliver a complete report to the Ministry of Health within hours. The speed and ease of collection and reporting were unprecedented.

In Uganda and Kenya physicians and medical students are currently using PDAs for short surveys on malaria and TB, and to access health information. SATELLIFE uploaded eighty PDAs with medical reference materials including medical textbooks, essential drug lists, and treatment guidelines on HIV/AIDS, TB, and malaria specific to Uganda and Kenya. SATELLIFE is currently collecting survey data and monitoring how the participants use the units and the information resources carried on them. A thorough evaluation is planned to examine the usefulness of both the technology and the content.

A major advantage of PDAs is the speed at which data collected in the field can be returned to policy makers for decision making. In addition, PDAs enable physicians and other health professionals to have constant access to up-to-date information in under-resourced environments.

Other possibilities for handheld computers include record keeping, database management, and communication for sustainable development in health and in other fields, such as agriculture and environmental health. This initial work demonstrates the viability and usefulness of a new technology in Africa. In turn, this may stimulate a new market and provide incentives to the corporate sector to develop relevant tools at an affordable price for African users.

Amy Galblum, MPH
PDA Project Manager




SATELLIFE is a non-profit organization dedicated to building healthier communities in the developing world through the power of information. Some 10,000 health
professionals in 120 countries currently access SATELLIFE's information services, including on-line newsletters and discussion groups, enabling them to be actively engaged participants in the global health community.

Web: <www.healthnet.org>

International Funding Priorities for Health Information

by Ibrahima Bob

This year I conducted a survey on the two email discussion lists, 'HIF-net at WHO' and 'AHILA-net'. I wanted to explore the similarities and differences between the priorities of health information providers in Africa ('recipients') and those of donor agencies.

Recipients were asked: If you were to get support from funding organizations, towards which priorities would you put the resources? And funders were asked: What types of health information related programmes would you consider funding?


600 (HIF-net at WHO) and 80 (AHILA-net) received the questionnaire and 55 responded, of whom 47 were recipients of funding and 8 were donor agencies.

The 47 recipients included 20 non-governmental organizations, 17 medical school libraries, 5 government health projects, 4 research institutes and 1 hospital library; 35 were from Africa, 7 Europe, 3 North America, 1 Asia, and 1 Latin America.

Training was reported as a priority by both donors (75%) and recipients (70%). However, 'local creation of health information' was a priority for 45 of the 47 recipients, but only 3 of the 8 donor agencies. Similarly, 80% of recipients felt that repackaging (adaptation of health information) was a priority, compared with only half of donor agencies.

The message to donors is that funding organizations should be doing more to support the local creation and adaptation of health information in Africa.

I would like to take this opportunity to flag the many related issues which are well known to those of us in Africa who are trying to improve access to health information:

1. Less than 10% of global biomedical research funding is spent on diseases that account for 90% of the global disease burden: more funding is required for biomedical research in developing countries.

2. Research in developing countries is difficult to access: more developing-country research needs to be published in international journals and/or in African journals.

3. Providers of health information are restricted by copyright laws: copyright law needs to be reviewed for essential, life-or-death information.

4. Medical libraries in Africa lack computers, Internet access, textbooks, core journals, photocopiers, printers, paperŠ These are basic needs that must be addressed.

5. Information on 'funding for health information' is hard to find. There should be a dedicated fundraising advisory service for health information activities.

6. The Health InterNetwork is providing increased access to northern e-journals, while African journals are in a state of collapse. There should be more support for, and inclusion of, African journals.

7. The Blue Trunk Libraries are effective in meeting district-level information needs and should be made more available.

8. Information services are only effective when managed by trained staff. Therefore all information projects should include training of local personnel.

9. South-South and South-North-South networking are highly effective, and are vital to promote understanding, exchange of experience, and convergence of priorities. Therefore international networking should be strengthened.

Despite the potential of ICTs, health information providers in Africa continue to work with their hands tied. It is time for donor agencies and others to work together to ensure that all health professionals in Africa have access to the information they need to learn, to diagnose, and to deliver the most effective healthcare possible with the resources available.

The above paper is based on a presentation given at the Health Information Forum meeting on 21 May 2002 at the London School of Hygiene and Tropical Medicine.

Ibrahima Bob
Secretary General
Association for Health Information and Libraries in Africa (AHILA)
Email:


...INASP-Health Update...INASP-Health Update...


INASP-Health Priorities 2002-03

In response to demand:

expand and develop existing services
online INASP-Health Directory 2003
regional and national versions of INASP Health Links gateway <www.inasp.info/health/links>
enhanced cooperation among funding agencies
advisory service on fundraising for health information activities
promote creation and adaptation of local content
development of procurement tools
cooperation to meet the information needs of rural health workers
in-country workshops to develop skills and cross-sectoral collaboration
regional and national 'HIF-like' groups


For further details, contact


The HIF-net at WHO email discussion list now has more than 800 subscribers. To join, send your name, organization and interests to Dr Neil Pakenham-Walsh at


Health Information Forum Programme 2002-03

The HIF Debate: "On Trial: Access to Health Information." - E-Health 2002, Barbican Centre, London, 18 Sept 2002
Health library partnerships - Wellcome Trust, London, 12 Nov 2002
Health information and continuing medical education - Royal College of Physicians, London, 14 Jan 2003
Reliability of information for health workers in developing countries - International Health and Medical Education Centre, London, 18 March 2003
Impact of information on healthcare - British Medical Association, London, 20 May 2003
HIF Annual Forum and Exhibition 2002 - British Medical Association, London, 15 July 2003

For the latest on HIF events, click on 'Events' at <www.inasp.info>

Quest: A practical guide for local producers of health information materials

Many health workers are responsible for producing or adapting health information materials. To help meet their needs, Healthlink Worldwide has developed Quest, a practical guide for use in isolated or resource-low settings. Quest encourages the use of local resources to create locally appropriate and owned information.

Quest was developed with input from a wide range of individuals and organisations. It is relevant to audiences in developed and developing countries, including health workers and educators, community workers in government bodies and non-government organisations, and community and patient groups. The first Quest training workshop took place in April 2002 in Zimbabwe. A manual, website, CD-ROM and training package will be available in December 2002.

The Quest framework has seven stages: assessing needs; planning; researching content; developing content; pre-testing; production and distribution; and post-production evaluation. Each stage includes questions and evaluation points to prompt creative thinking about how materials will work in practice. There are also "How to..." sections that aim to develop practical skills, e.g. "How to plan a budget", and "More about..." sections that signpost to further information and resources.

For more information, or if you are interested in pre-testing the Quest website, please contact: David Curtis, or Melaina Barnes,

Healthlink Worldwide, Cityside 40 Adler Street
London E1 1EE UK
<www.healthlink.org.uk>
Workshops on Electronic Publishing
by Dr. N.A.Parakesh

In March this year the Indian Academy of Sciences in Bangalore organized two workshops on electronic publishing in science. The workshops were partly supported by INASP, which contributed both financially and by providing literature resources.

The Indian Academy of Sciences (<www.ias.ac.in>) is a major publisher of science journals in India. Its journals are available on the Internet. The workshops were planned as an attempt to catalyse growth of electronic publication among other nonprofit publishers and to review and enhance the Academy's own electronic publishing programme. The organization owed a great deal to the enthusiasm and energy of Prof. Subbiah Arunachalam (of the M.S. Swaminathan Research Foundation in Chennai, <www.mssrf.org>). The main resource persons were Prof. Leslie Chan of the University of Toronto Canada, and Bioline International (<www.bioline.org.br>, supported by IDRC) and Barbara Kirsop of the Electronic Publishing Trust for Development in the UK (<www. epublishingtrust.org>), supported by the British Council. The Council of Scientific and Industrial Research (CSIR) and the Department of Biotechnology of the Government of India also provided financial support.

The workshops were intended primarily for editors, editorial support staff, computer support staff of Indian nonprofit science, technology and medicine journals and publishing organizations. The aim of the workshops was to address issues that relate to establishing electronic editions of journals in parallel with existing print editions. Open archives (<www. openarchives.org>, <www.soros.org/openaccess> and <www.eprints.org>) was also part of the content. Considerable time was devoted to hands-on sessions at PCs for creating a simple web version of a journal paper, and for adding metadata elements to it.
The participants acknowledged that the workshops provided an excellent opportunity to discuss issues pertaining to electronic and traditional print publishing, even simply to find out what other journals are doing. It was interesting, for instance, that several Indian medical journals have websites and have built up experience in managing them but that the participating science journals were not online.

Participants were asked to come up with a list of important topics for electronic publishing. It includes web journals and visibility, partnerships with institutions in developed countries, preprinting workflow and document management, tools for electronic publishing, search engines, advertisements, copyright issues, XML, cost of maintenance, access and control, archiving and long-term access, role of libraries, lack of access in many regions, file formats and conversions, pricing and economics, persistence of print editions, impact on subscriptions to print journals.

The importance of metadata for structure of documents, search and retrieval, data management, access and rights issues, bibliographic control, data exchange and interoperability, and digital preservation was highlighted. A take-home lesson was that metadata, machine-understandable information for electronic resources, are key to successful electronic publishing.
SciELO and Bioline were described. Both provide a platform for many journals from different publishers and offer advantages difficult to achieve for an individual journal or publisher. Not surprisingly, the idea of a shared journal server for Indian journals evoked much interest among the participants. One participant made a cogent summary of the pros and cons, which generated lively discussion. Feedback from the participants shows that most of them place high priority for setting up a common journal server for Indian journals.

The overarching concern was the urgent need to increase visibility of Indian journals by making them available on the Internet in formats that take advantage of search and retrieval procedures. That is not an easily achieved objective, but the hope is that the workshops will have played the catalytic role that was intended for them.


N. A. Prakash
Indian Academy of Sciences, Bangalore
Email:
Email alert

INASP Newsletter is available in full text on the web. An automatic Email can be sent on publication of each issue of the newsletter.
To sign up for this please send an Email to , and in the subject line write "newsletter Email alert"

To unsubscribe to the print edition, please Email: .

Go to top
Strategic Communication: the KNLS Initiative
by Francis A. Anyenda

A workshop on strategic communication recently held in Dar-es-salaam, Tanzania advocated for the establishment of communication strategies for public organizations in Eastern and Southern Africa. The workshop (under the aegis of the Carnegie Corporation of New York's Public Library Revitalization Programme) brought together 38 participants from Kenya, Tanzania, Uganda and Botswana. The four countries are some of the beneficiaries of the Corporation's grants aimed at streamlining their services and operations.

The Corporation's assistance is timely since most public institutions in Africa are faced with financial constraints. Communication is crucial for an organization to achieve its mission, goals and objectives.

In Kenya, in common with most other African countries, public libraries are funded by the government. They are institutions established by an Act of Parliament and are developed to meet the information needs of the general public without bias or discrimination. However, as observed at this workshop, the media know little of what libraries do - other than being stores for books and places to go to kill boredom.

In Kenya, this scenario is slightly different. Under the office of the Director of the Kenya National Library Service (KNLS) and during a period when the KNLS was undergoing great change, a Public Relations unit was established to communicate with the media.
One achievement of this unit has been the value of press coverage over the past 2 years: the KNLS has spent less than KShs.500,000, but has received coverage worth over KShs.2million. Good relationships have been built with the media and they have promoted the activities of KNLS. The KNLS Board has also shot a documentary film on its activities, and in conjunction with the film department in the then Ministry of Information and Broadcasting produced a newsreel on its services which has been shown in all the major cinemas in Kenya and in other parts of the world.
Another important milestone has been the media attention given to the Camel Library Service (CLS). The CLS, established in 1996, has become a darling of local and international media. It has appeared in the popular television programme "Africa Journal" produced by Reuters, and has also been covered by the Voice of America, the Middle East Broadcasting Service and the British Broadcasting Corporation. Through this extensive publicity, the KNLS has managed to attract a lot of interest in the service - including donors. Among supporters is the Germany Embassy in Kenya which donated approximately Ksh.60,000 for purchase of books, and has also pledged to donate a full caravan comprising three camels, furniture and books.
The Community Based Libraries (CBL) initiative to develop a public library system began in 1990 when it became evident that the government funding for constructing libraries was no longer forthcoming. The CBL approach is an initiative through which the local communities play a central role in the establishment of public library services by provision (and development) of land and furniture. This initiative has seen the growth of 16 Community Based Libraries across the country with many more opening soon.
The KNLS website <
www.knls.or.ke
> was developed to communicate its programmes and activities to various audiences nationally and globally. In addition the KNLS has used other means of communication including: participation in various activities (e.g. hosting World Book and Copyright Day and National BookWeek Celebrations); and production of various publicity materials (diaries, calendars, posters, brochures, T-shirts, etc.).
The relationship between KNLS and the media has continued to remain cordial and the media is always invited to all functions organized by KNLS. The Public Relations Unit has recently been upgraded to become the Donor Liaison and Communication Division with more local and international communication responsibility. The division is currently formulating a communication plan that will form the basis of the communication strategy for KNLS. This plan will be guided by the knowledge obtained from the strategic communication workshop.
Francis A. Anyenda
Public Relations Officer, Kenya National Libraries Service
Email:
Producing Newsletters for Members of National Library Associations in Africa
by Anthony Olden

Active involvement in professional activities is important for personal development. This can be a challenge in developing countries where library associations are fairly new and paid-up membership is often low: financial resources are limited in consequence. Information professionals want something tangible in return for their subscriptions, and an INASP programme (funded through the Carnegie Corporation of New York) is assisting national library associations in nine countries to bring out newsletters. Starting with the Botswana and Kenya Library Associations in 2001, financial assistance was given towards bringing out two issues of a newsletter each year. From 2002, the scheme was extended to Ghana, Malawi, Nigeria, Tanzania, Uganda, Zambia and Zimbabwe.

A number of associations had newsletters or journals already, but financial constraints made production irregular. Editors and editorial committees are now working hard to remedy the situation. What is required of them? An interest in doing the work is vital, plus the capacity to do it in a professional manner. Most editors want to make a contribution to their profession. Editing keeps them in touch with what is happening - and with what is about to happen.
Editors need to be persuasive. They need to convince their (often sceptical) professional colleagues that the newsletter will indeed come out, and that there are benefits to writing news items and short articles for it. Those who agree to submit something may need to be chased into doing so. Newsworthiness is essential, since there is no point in informing members of meetings that are over or submission dates that have passed, and that means getting the newsletter out on time.

Diplomacy is required. A certain amount of rewriting may be required, and not all authors take kindly to this. It may be necessary to remind potential contributors of the difference between a newsletter and a journal. Scholarly articles comprising several thousand words and numerous references make important contributions to the literature, but an academic journal is the appropriate place for them, not a newsletter.

Content and presentation vary, naturally enough, but the overall standard is high. There is usually an editorial or a message from the chairperson. Association news includes reports of workshops, general meetings, and conferences. All these are of value to association members who do not have the opportunity to attend in person.

What else do newsletters contain? Some include interviews with or profiles of particularly active librarians. In Matukio (the Kiswahili word for events) Theophilus Mlaki (Director of Information and Documentation at the Tanzania Commission for Science and Technology) reflects on his career over more than 30 years and on his expectations of younger colleagues. The Uganda Information Bulletin outlines the career of the new Director of the East African School of Library and Information Science, Dr Isaac Kigongo-Bukenya: from grade II teacher to PhD graduate.

New appointments are another feature, as are obituaries. The death of one of Nigeria's best-known librarians, Dr Simeon Aje, is recorded in the Nigeria Library Association Newsletter. Dr Aje was the first Nigerian Director of the National Library of Nigeria, and a regular participant at International Federation of Library Associations conferences in the 1970s and 1980s.

How will the newsletters be sustained when the financial assistance comes to an end? Expanding membership should bring in more income in the form of subscriptions, and this will help. But African library associations are also increasingly entrepreneurial. Nigeria's newsletter includes advertisements from publishers, booksellers and other firms, while Tanzania's Matukio states "THIS SPACE IS FOR SALE" in a box on its front page. The future looks bright.

Tony Olden
Thames Valley University, UK
Email:

From Individualism to Groupism
Library Resource Sharing and Cooperation in the Eastern, Central and Southern African Region

by Beatrice Sekabembe

Between 13-15 April 2002, the Esselenpark Centre in Johannesburg was a hub of activities. Library professionals from near and far gathered to discuss, resolve, and pave the way forward for the national and university libraries in the Eastern, Central and Southern African region. This was the fifth time that the Standing Conference for the African National and University Libraries in the Eastern, Central and Southern Africa (SCANUL-ECS) was meeting since its inception in 1994. For South Africa, it was a historical event since it was the first time they have hosted librarians from across their borders.

The conference attracted almost 100 delegates from both national and university libraries and from the sister West African regional association, the Standing Conference of African University Libraries - Western Area (SCAULWA); Carol Priestley and Diana Rosenberg represented INASP; and eight exhibitors promoted their information products. Eleven papers were presented, discussed, and resolutions made.

Among the resolutions, the concept of consortia was identified as one sure way for effective resource sharing and cooperation. Fortunately, there are existing and functioning consortia within the region for others to emulate.
The business meeting

The conference was closed with a business meeting chaired by Mr John Tsebe. The following were elected:
Chairman: Mr James Mugasha, Makerere University, Uganda
Vice Chairperson: Ms Dikeledi Kunene, Swaziland National Library
Secretary: Mrs Beatrice Sekabembe, Makerere University, Uganda
Treasurer: Mr Frederick Mukungu, Uganda Christian University, Mukono, Uganda
Ex-Chairman: Mr John Tsebe, University in the North, South Africa
Editor: Ms Gertrude Kayaga Mulindwa, University Librarian, Uganda Martyrs University, Nkozi, Uganda.
This was a landmark for Uganda because it was awarded most of the posts.

Future concerns

Missing in the conference was the young blood. This was due to the restrictive funding situations in almost all the national and university libraries, since what is available can only bring in single representatives.

Another area of concern is the funding status of the SCANUL-ECS. With all delegates being donor funded (apart from those from S. Africa), I shudder to think of what would happen should donor funding finally dry up! The next meeting is in 2004, so perhaps it is time that institutions start saving early to enable more participation.

Agenda for the new SCANUL-ECS officials

The new executives have started work and the following are underway:
SCANUL-ECS Newsletter to be published and distributed to members twice a year (funded by INASP);
A case study of the activities of existing and functioning consortia in the region as well as those in different levels of formation. INASP will provide funding;
A directory of university and national libraries in the region;
A website for SCANUL-ECS to be hosted by NISC in South Africa.
Beatrice Sekabembe
Secretary, SCANUL-ECS
Makerere University, Uganda
Email:


INASP Updates...
Public Library Revitalization in Africa
As part of its work with public libraries in Africa, INASP has been advising and assisting the national library services of Botswana, Kenya and S. Africa for almost two years. This has also included acting as adviser to the Carnegie Corporation of New York in the implementation of their Public Library Revitalization in Africa programme in these countries. INASP's role covers technical assistance and sector building; capacity building, research and training; development assistance to library associations; and dissemination of information.
During the past year, INASP has been particularly active in supporting the Grantees, including organizing, facilitating and providing support for the following:
'From proposal to action: strategies for implementation' workshop April 2002. Topics included project set up, implementation, final closure and reporting.
"Reader development and reader Promotion" workshop April 2002 (during SCECSAL) - over 160 people registered and participated. Persistent requests for a follow-up have led to the preparation of a publication on Reader Development. INASP has been approached to facilitate similar workshops at the West African Library Association (WALA) conference in 2003.
A workshop on issues and options within Information Communication Technologies (ICTs) is in development.
INASP assisted the Botswana Library Association hold a workshop on "Proactive librarianship: marketing and public relations with particular emphasis on services tailored towards children, the youth, the physically challenged and adult basic education and training" at the end of July.
Kenya Library Association plan to hold a workshop on "Strategic Management" during 2003.
Proposals for workshop sponsorship and assistance for 2003 have been invited from the national library associations of Ghana, Malawi, Nigeria, Tanzania, Uganda and Zambia.

Throughout 2001, grantees commented that they found it incredibly difficult to obtain information about publishers, booksellers and various other players in the book community. This complemented a request from partners of the French Ministry of Foreign Affairs and INASP was invited to coordinate the preparation of a book on the "book chain" in Anglophone Africa - see the notice on the back page.

Following a request from the Kenya National Libraries Service (KNLS) eight library systems are currently being guided in writing case studies on income generation for public libraries in Africa. The research will be completed by the end of 2002 and subsequently published.

INASP contracted Book Aid International to facilitate workshops on "Monitoring and Evaluation" and on "Advocacy and Lobbying" with the Botswana National Library Service in May and June 2002. Similar workshops are scheduled for the Kenya National Library Service (KNLS) during 2003. The materials produced during the Botswana workshop have been compiled by Book Aid International and are available on the INASP web site at <www.inasp.info/lsp/libraries>
INASP worked jointly with the IFLA Africa Regional Section in arranging for seven librarians (from Botswana, Kenya, Ghana, Uganda, Tanzania, Nigeria and Zambia) to attend IFLA 2002. The second meeting of the Carnegie Corporation of New York Public Library Revitalization Programme Grantees for 2002 was held while grantees were in Glasgow at IFLA. This meeting confirmed the value of INASP's involvement in the programme, and added various aspects to the Work Plan for 2003, including the need for INASP to produce guidelines and research on performance measurement and statistics in public libraries in Africa.

More information on these initiatives can be obtained from
Anne Powell, INASP
Email:
PERI resources
The Programme for the Enhancement of Research Information is becoming increasingly popular. This programme comprises four components, all concerned with enhancing access to and understanding of, online research information. Through component 1 of PERI, Delivering Information, access is negotiated to online resources for use by researchers in developing and transitional countries.

Resources are prioritised by the researchers and librarians. INASP then negotiate with the publishers on their behalf. We aim to agree discounts of between 90-98% to ensure that the resources can be long-term affordable and sustainable. In some cases, access can be supported through PERI funds.

We are receiving more requests and more publishers are asking to work with us - see the table of available information and the new publishers recently joining us on pages 6 and 16 respectively. See also the website <www.inasp.info/peri/electronic.html>

For more information, contact Sarah Durrant at

Publishing Support from INASP
Working with partners around the world, INASP are increasing the number of training courses and support for publishers and editors. We welcome applications and suggestions from all PERI-supported countries.

Recent workshops include:
India - see the article on Workshops on Electronic Publishing
Nigeria - "Research and writing skills"
Switzerland - "Consultative Workshop for Medical Editors"
Chile - "Scientific electronic publishing in developing countries"

For more information, contact Pippa Smart at