Where there is no Psychiatrist: A Mental Health Care Manual
by Vikram Patel
There is a huge unmet need for mental health care in developing countries. Most care will have to be provided by primary health workers with little or no training in mental health. During the 10 years I worked in Zimbabwe and India, I looked at several manuals for primary and community health workers. Unfortunately, they were all heavily influenced by biomedical psychiatry; for example, topics referred to psychiatric diagnostic categories such as depression and psychoses. These words not only fail to translate into many languages, but are also laden with stigma.

Where there is no Psychiatrist is a highly illustrated practical manual for community health workers, primary care nurses, social workers; primary care doctors and general practitioners. 'Medical' treatment of most mental illnesses is relatively straightforward, so it can be communicated to both medical and non-medical health workers in a similar medium.

The manual takes a problem-solving approach to diagnosis and management, and includes mental health care for refugee camps, school health programmes, and people living with HIV/AIDS. Produced by the Royal College of Psychiatrists (UK), the price of the publication is £8 (approx 12 US dollars). The College is looking to work with local organisations to make the manual more accessible in developing countries.

For further information, see: www.rcpsych.ac.uk/publications/gaskell/75_7.htm or write to: .
---
e-TALC: Health Development Resources on CD-ROM
by David Morley

Many health professionals now have access to computers, but may have limited or no access to the Internet. This free CD-ROM from TALC (Teaching-Aids at Low Cost) includes publications from AfriAfya (Kenya), Health Action International, id21, INASP, PLAN International, Practical Pharmacy, Tearfund, Uganda CME Newsletter, and World Anaesthesia. It also includes the Atlas of Leprosy and Cochrane Library.

To order (or if you would like your materials to be included on future CDs) contact Website: www.talcuk.org
---
Resource centres for district-level health workers in Tanzania
by Sarah Hammond

Since 1990, the Centre for Educational Development in Health Arusha (CEDHA) and Healthlink Worldwide have established a network of district resource centres (RCs) for health workers across Tanzania. In 1997 we reported the lessons learned from the first 6 years (see http://www.inasp.info/newslet/may97.html#6). Our continued experience has highlighted the need to place the development of RCs in a wider social context.

With funding from DFID (UK), the project has established 43 district RCs across Tanzania, located in district health centres. Health sector reforms in Tanzania have increased district-level responsibility for health planning and service delivery, and RC development has responded to the increasing need for information on health practice and management. The RCs are staffed by health workers themselves, who have received training from CEDHA, using the Resource Centre Manual produced by Healthlink Worldwide http://www.healthlink.org.uk/rcman/rchome.html.

Key lessons learned

l Health workers value textbooks more than newsletters and journals, even though the latter may hold information of similar quality, and are cheaper to obtain. l RCs develop best in situations where professional development is valued and encouraged. l The RC assistant or coordinator is crucial to develop a dynamic RC; they need a combination of skills, linked to educational levels, creativity and initiative. l RCs need institutional commitment for long-term sustainability. The level of support from the Council Health Management Team, and the District Medical Officer, has a major impact. l Commitment is required from districts before they are selected, including the agreement of staff time for the RC assistant, allocation of a room, a small budget for expenses, and donation of materials for the centre.

Throughout their partnership, CEDHA and Healthlink Worldwide have supported the production of local content at district level. District health workers were encouraged to identify priorities in their districts, and were supported to develop a total of eight guides on subjects like quality assurance, district health planning, gender-based violence and sexual health issues. Health workers also expressed an urgent need for easy-to-understand information on health sector reform: CEDHA adapted and repackaged the human resource policy from the Ministry of Health to meet this need.

An evaluation of the project in 2001 showed that health workers require greater access to Internet and video resources. CEDHA and Healthlink Worldwide are introducing these facilities in a small number of centres in 2003. The project will be supported by Source (www.asksource.info), an international support centre designed to strengthen the management, use and impact of information on health and disability.

For more information, contact Sarah Hammond, Regional Link Coordinator. Email:

Healthlink Worldwide Cityside, 40 Adler Street London, E1 1EE UK

Healthlink Worldwide www.healthlink.org.uk CEDHA www.cedha.ac.tz
---
CME - accessing, evaluating and using health information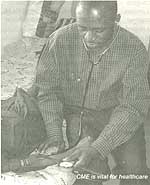 by Steve Allen and Sarah Davies

The E-learning Global Health Programme is an Oxford University initiative, supported by the Bill and Melinda Gates Foundation. The course will provide relevant, valued continuing medical education (CME) to African health professionals and is underpinned by Oxford's existing strengths both in tropical medicine and online learning.

Distance learning presents an opportunity to deliver high-quality, relevant education and training to practising health workers. Effective education in, or close to, the workplace can directly improve practice and provide career development without the need to study overseas.

To provide training that is relevant to health professionals in Africa, the programme needs to be valued locally and, therefore, designed and developed in close association with people on the ground. To achieve this, the following approaches have been used:

l Regular consultations at a number of health conferences in Africa, identifying key individuals and institutions that can contribute to the project. l Identification of ways in which the programme can complement current certification systems, and thereby be recognised and accepted in the African education system. l Local creation and interpretation of health information is vital. The learning materials will be authored mainly by collaborators based in health facilities in Africa.

A student-centred, problem based approach will put the student and their individual situation at the heart of the learning experience. With so many excellent information resources available (websites, textbooks, journals, CD-ROMs etc.), we will recreate as little content as possible. Rather, we will create the learning context for students to develop essential skills in evidence based healthcare.

The programme will focus on malaria initially, but will be extended to cover a range of priority health topics, including HIV/AIDS, malnutrition and tuberculosis.

The Project will be technically supported by the Centre for Tropical Medicine, Nuffield Department of Clinical Medicine, Oxford (the Centre runs a number of programmes in African countries, including a permanent research unit in Kenya), and by Technology-Assisted Lifelong Learning (TALL) at the Department of Continuing Education, Oxford University. TALL have been creating Internet-mediated courses since 1996, and combine course development with research into e-learning, providing courses that make the best use of innovative learning and teaching techniques that are appropriate to the learning situation.

With the expertise in tropical medicine and learning technologies that Oxford can offer, we seek to work with partners with a background in resourcing for Africa.


Dr Steve Allen Nuffield Department of Clinical Medicine

Dr Sarah Davies Technology-Assisted Lifelong Learning

Web: www.tall.ox.ac.uk/globalhealthprogramme